About Tom-Wat Fundraising
A Letter from John F. Wey,
President, Tom-Wat Fundraising
Dear Friends,
Tom-Wat Fundraising has been helping groups raise money for more than 60 years. It all started back in 1951 when we introduced our first ever Show*Case Kit. Ask anyone who was involved with Scouts, Schools, and other groups as a kid and they'll share their fond memories of Tom-Wat. Those fundraising kits are an American icon! We pride ourselves in our legacy and longevity in this business.
Now, after more than 60 years in fundraising, we continue to provide unmatched quality and outstanding customer service. We are now working with all kinds of groups whose grandparents actually sold fundraising items from Tom-Wat decades ago! We often hear customers say, "I remember when we sold with Tom-Wat in the seventies…" or "Do you still sell those potholders?…I still use mine!" We are extremely proud to have serviced generations of people, many in the same family!
Over the years, we have helped thousands of High School Groups, Elementary Schools, Church Groups, Scouts, Bands and other groups across the nation raise tens of millions of dollars. Without our continued and unwavering commitment to excellent customer service, this could never have been achieved.
If you are looking for a fundraising partner you can trust and rely on, then you've come to the right place. We won't overwhelm you with scores of fundraising programs that don't work! The 7 or 8 types of fundraisers that we offer are the best of the best. So please browse our web-site, send us an email, or give us a call. We've got the most experienced fundraising professionals in the entire industry. We'll be delighted to help your group raise money.
Thanks so much!
John F. Wey, President, Tom-Wat Fundraising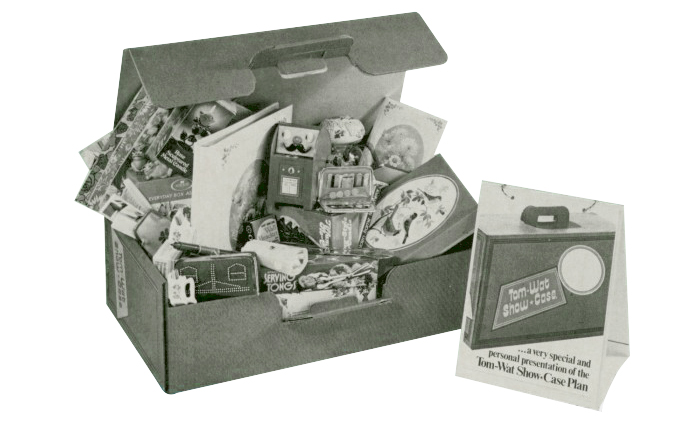 A little bit of Tom-Wat history–here is a old showcase kit from back in the day
Popular Fundraising Programs